Right now, my church is in the middle of a series called The Ripple Effect - the ultimate goal is to invest in the children's ministry of our church, but the message is that God uses ordinary people to do extraordinary things for His glory. Alissa from
Rags to Stitches
is one of those people doing extraordinary things this week through
the Paxton Project.
Her friends, the Millers, are yearning to grow their family by adopting another child, but the expense of the adoption is hindering this from happening. Alissa has put together a fundraising raffle, full of fantastic prize packages from various talented handmade businesses.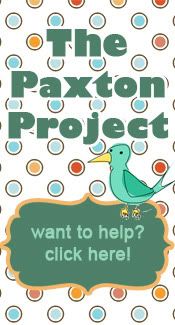 " />
Each $5 donation earns you an entry into a drawing for a prize basket. Want to win them all? Donate more for more chances! All of the donations will go directly to the Millers to help them bring Paxton home. Here are the three prize packages:
Each prize basket is valued at $300 - that's $300 of cool stuff for you for helping a great family.
What would you do if you knew you could change this family's life forever? Donate now!