Today I was able to finish up the wreath I'd been working on in between coats of paint in my office. It ended up quite a bit different than it began (does that ever happen to you?), but I'm pretty happy with the final version...
The wreath form is a natural straw form that I found at Hobby Lobby - I loved the natural straw and thought it would be a perfect background for my Halloween wreath idea. Unfortunately, the straw did not get along so well with my sensitive skin. My arms were so red and itchy that I moved on to plan B (okay, I didn't really have a plan B, but I made one pretty quick!) I wrapped the form with some aqua grosgrain ribbon (cause I didn't have orange or black or purple or any of the Halloween colors, k?) - my skin was ever so thankful for the change, the color didn't matter.
I then added the spider web, constructed from some
shimmery black yarn
, straight pins, and memories of web-making from grade school. (I think we did ours with nails on a block of wood back then - do you remember doing those?) The "BOO" letters were found in the wood crafts department at Hobby Lobby and then lovingly adorned with some orange glitter left over from the
Glitter Acorns
. The cute little Spidey will be a tutorial for ya later this week!
I used some scrap fabric for the little rolled flowers... and my new wreath was complete!
I love how it matches my door...
I'm slowly getting the entire front entry ready for fall. The Halloween lights are on the ivy planters, the grapevine pumpkins have been rescued from the attic, and I've added some fall mums just waiting to bloom (I'm hoping they can survive the final hot days of the season). I'll show more pics once it's really ready.
Oh, and about that office... it. is. done!
Well, the painting that is. Now I have the task of figuring out which sleeper sofa and craft table I will be adding to the space. I'm already loving how much lighter and brighter the room is since getting rid of the poop brown walls.
But back to that wreath, right?
Linking up here: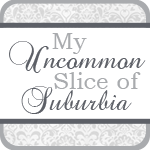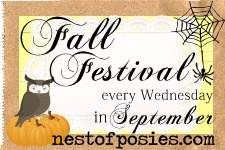 "
Scattergirls