I live in a neighborhood full of oak trees. Even in the midst of the 2011 drought, these trees are still producing tons of acorns - good for the deer and good for us crafty folk ;). My girls have been excellent acorn hunters for their mama on our evening walks - picking up only the ones still wearing their hats, just the way I like 'em! I've got a couple of acorn tutorials in the works, but here's the first... an acorn tree to grace your fall table or mantle.
Acorns. Lots of acorns.
Styrofoam cone form (You may want to spray paint it brown if you don't like the white showing through)
Hot glue
Mod Podge
Patience (hee)
1. Beginning at the top of the styrofoam form, glue acorns in place, tilting them at about a forty-five degree angle.
2. Continue adding acorns, fitting them together like a puzzle (stem portion fits in between the ends of the previous two acorns). See?
3. Add acorns until the entire form is covered (be prepared to send your children for more acorns in case you run out... not that I'd know anything about that. Ahem.) I used a combination of fallen acorns (brown) and some picked from the tree (green) so I would have some variation in color.
4. To form the top of your "tree", glue acorns in an upright position at the top of the cone.
5. Then add one in the middle... your little acorn star, so to speak.
6. Now it's time to bring out the beauty of the acorns' colors with a little Mod Podge. Apply Mod Podge to each acorn, being sure to coat the acorn and cap portion.
You acorn tree will now look like this (deep breath, it's gonna look better!):
At this point, you can add glitter if you'd like for a little sparkle or affix some moss in between acorns.
7. When your Mod Podge has cured, you're left with this beauty:
This is a fun way to dress up your fall table or mantle - and since it's not holiday specific, it can be used the entire fall season! Hope you enjoyed the tutorial!
Oh, and yes, those little sparkly guys at the bottom are a sneak peek of a fun kid's craft tutorial to come!
Linking up here: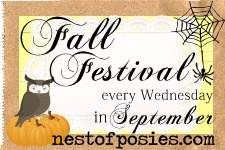 "