Here it is… the tutorial for my OMTWI Fabric Paper Dolls!
I found my inspiration in the cherubic faces of the Graphics Fairy's
printable vintage paper dolls
. But rather than use paper, which can tear all too easy in the hands of two rambunctious children, I decided to use fabric!
What You'll Need:
light colored fabric (I used white cotton twill)

Freezer paper

Iron

Inkjet printer

Felt (1 8x12 sheet per printed fabric sheet)

Stiffened felt

Heat n Bond (or similar fusible applique interfacing)

Fabric glue

Velcro
Instructions:
Set iron to warm setting. Place fabric right side down, then place freezer paper on top with waxy side down. Slowly press over freezer paper until it fuses to the fabric.

Cut your fabric/freezer paper to desired printing size (I did 8.5 x 11).

Load fabric/freezer paper into printer tray, being sure to have fabric set correctly for printing. (You may need to mark a piece of paper and print a sample to be sure.) Print image as if you were printing on regular paper.

I let my prints sit out overnight just to be certain the ink was dry. Then, just peel off the freezer paper portion and discard.

5. Bond your applique interfacing to the wrong side of your printed fabric, then to your felt.


6. Next, sew around the outlines of your doll pieces with a straight stitch. *Note* For those of you who don't sew, this step is optional, since your fabric is already fused. The stitch is more for decorative purposes.

(You're welcome.)

7. At this point, you're ready to cut around your doll pieces. You'll want to use scissors that are good for fine handiwork with all of the teensy pieces – I used my fave CutterBee scissors.
8. Trace the outline of your doll figures onto stiffened felt. Cut out just inside your tracing outline. Using fabric glue, glue to back of doll figure.

9. I don't have a picture for this next step, but it's super easy. Cut out a tiny piece of velcro (about the size of a pencil eraser) – secure the hook side to doll clothing tabs with a small dab of hot glue. Try your clothes on your doll and make a mark where the velcro meets when the tab is folded around the doll – hot glue the soft velcro side on this mark.
~Velcro placement will vary based on the clothing pieces that come with the doll image.~
10. Now, it's time to play!


I adore the vintage images of these sweet, rosy-cheeked, wide-eyed little girls and hope you're inspired to make your very own Fabric Paper Dolls (whether for you or for that special little person). I will warn you… be prepared to put up a fight with your children for these cuties!
Linking up with these fab ladies:
Tatertots and Jello
Show and Tell Saturday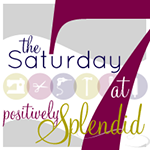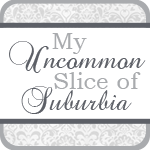 Wow Us Wednesdays
Strut Your Stuff