If you haven't already heard, Google Reader will be laid to rest as of tomorrow, July 1st...
*moment of silence*
Thankfully, you're able to continue following all of your favorite blogs through bloglovin' - you can even import your daily reads from your Google Reader account but today's the last day to do that so sign up while you can!
You can follow home.made. by clicking the link below... easy peasy!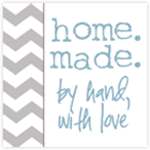 Thanks so much for following this DIY girl and stay tuned for an exciting announcement!