I sort of revealed my red console in my Christmas Cookie party post, but what furniture makeover is complete without a post completely dedicated to it, right?!
Right.
My sister found this console in an estate sale held at the home next to her:
As you can tell, it was in excellent condition. Whoever had it either never used it or took very good care of it – score for me either way. Oh, and did I mention it was only
50 bucks
? Super score!
I know what you're thinking… why make over a piece that doesn't have anything wrong with it? Believe me, Mr. home.made. would agree with you. He just couldn't understand why I'd want to paint "
perfectly good wood
"; honestly, I thought about keeping it as-is for a
very
brief second for that same reason.
But then I realized – it's great as-is, but I wanted to make it mine, to make it more home.made. Plus, I have a lot of dark wood in my home between furniture and wood floors and wood plantation shutters, so more dark wood is not what I had in mind.
Enter Glidden's
Red Delicious
paint.
Rather than sanding, I decided to simply prime this piece. I ran out of my foam rollers, so I used a textured wall roller for the larger areas – not a good idea if you're looking for smooth, even coverage, mind you. I however, like the stippled effect it left – after applying the red paint, the stippled primer coverage gave the paint the effect of an old piece of enamelware – it was a happy accident!
I wanted a hand-painted look, so I brushed two coats of the paint on with my trusty
Purdy brushes
. Once dry, I brushed on a dark umber glaze made by mixing tintable glaze with dark umber craft paint. I then wiped it off with scrap t-shirt rags, leaving more of the glaze in the natural nooks and crannies of the wood to enhance the patina.
I finished it off with a coat of Annie Sloan soft furniture wax, buffed to a soft sheen.
I painted over the original hardware with some chalkboard paint to give them a matte finish, leaving a little of the gold peeking through for a worn look.
I did a little bit of sanding to distress the edges just enough to show the white layer from the primer.
This console has been a perfect addition to my dining area. It's already been put to use as a buffet during our cookie decorating party and was a perfect complement to my cherry pie and vintage Rosepoint China on Christmas Eve.
And I'm happy to say, it even won the approval of Mr. home.made.
Turns out that "
perfectly good wood
" is sometimes perfectly good to paint.
Linking up here:
Wow Us Wednesdays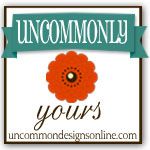 Power of Paint Party
Transformation Thursday
Strut Your Stuff
Miss Mustard Seed