First D.J.: Okay, campers, rise and shine, and don't forget your booties 'cause it's cooooold out there today.
Second D.J.: It's coooold out there every day. What is this, Miami Beach?
First D.J.: Not hardly. And you know, you can expect hazardous travel later today with that, you know, that, uh, that blizzard thing.
Second D.J.: That blizzard - thing. That blizzard - thing. Oh, well, here's the report! The National Weather Service is calling for a "big blizzard thing!"
First D.J.: Yessss, they are. But you know, there's another reason why today is especially exciting.
Second D.J.: Especially cold!
First D.J.: Especially cold, okay, but the big question on everybody's lips...
Second D.J.: - On their chapped lips...
First D.J.: - On their chapped lips, right: Do ya think Phil is gonna come out and see his shadow?
Second D.J.: Punxsutawney Phil!
First D.J.: Thats right, woodchuck-chuckers - it's
[in unison]
Both: GROUNDHOG DAY!
Tell me I'm not the only one who quotes
this movie
every year! Come on, woodchuck-chuckers… you know you do too!
I thought it'd be fun to break up the Valentine hoopla a bit and celebrate the infamous Groundhog Day, when a sweet little furball predicts when spring will finally show its face. (Although in Texas, that really doesn't apply considering it was eighty degrees this week!)
Here are some super cute food ideas to welcome Punxsutawney Phil!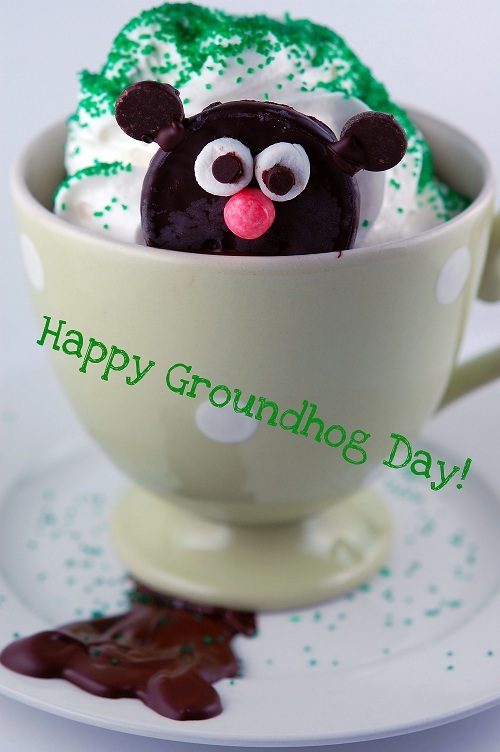 Your kiddos will love warming up with this
Groundhog Day cocoa
from Culinary Concoctions by Peabody.
I adore these
Groundhog Donuts
from Kitchen Fun with My 3 Sons. Peek-a-boo Phil!
Here's wishing you a happy Groundhog Day, and may your day be wonderful (just in case you have to repeat it over and over again ;))!